Consult With BFS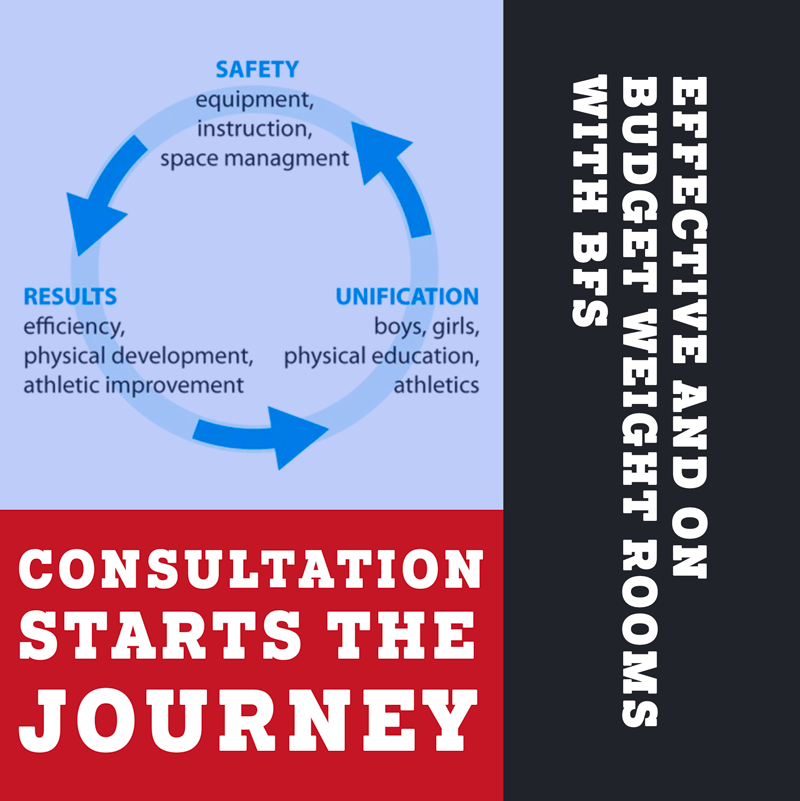 BFS Will Help You Succeed From Concept to Completion!
For 40 years BFS has been providing middle schools, junior high schools and high schools with the tools they need for success. We'd like to do the same for your school. We are your full-service company, not only providing all your Exercise Equipment needs, but also safe and effective Exercise Instruction.
One Day Consultation - 1 to 3 schools or facilities: $3,500
Concurrent additional days are available for $1,500, each covering an additional 1 to 3 schools. An unbeatable solution for counties or districts. Call BFS to learn more and book your school's or district's consultation! 800-628-9737
Join other great districts that have found a spingboard to success with a BFS Weight Room Consultation: 
- Baltimore County Public Schools (MD)
- Seattle Public Schools (WA)
- NYC Dept. of Education (NY)
- Central Consolidated School District (NM)
- Harford County (MD)
And many more!
---
Weight Room Consultation
Drawing on 40 years of experience BFS knowledgeable consultants will measure, review and make recommendations for your weight room. Using criteria that always begins and ends with safety your BFS consultation will provide clear recommendations for your unique situation.  
Unique Situations
BFS Consulting brings a deep understanding of schools and educational systems. With this insight to time and space constraints we will provide the best solution for turning your weight room into a learning classroom. 
Depending on when your school was built, what your current budgets allow, and what your expectations are BFS offers solutions for every institution. BFS knows your situation is unique. 
Unique Solutions
Once your on-site consultation, including measuring and inventorying of existing equipment as well as on-site interviews with teachers and coaches, is complete BFS delivers two options for moving forward with upgrading your facility. 
Your consultant will provide one floorplan that utilizes your existing equipment. This option will rearrange and perhaps remove excess equipment that hinders the safe and efficient use of your weight room. 
The second option will provide a floor plan of recommended replacement and new pieces of equipment to maximize your safety and results. Recommended upgrades in equipment may include auxiliary pieces, flooring, or storage - options will be provided. 
Continuing Education
BFS Consultations do not end with the equipment. Our ongoing educational support includes a year subscription to technique and training videos from the BFS Total Program.
This BFS Educational Center is available to every teacher and coach that uses your weight room. These resources emphasize perfect technique for both lifting and spotting. It also includes frequently asked questions from our safety series with Dr. Mark Rabinoff, an expert witness in hundreds of weight room lawsuits. This is invaluable for understanding and reducing your school's exposure to lawsuits.