MONTE VISTA SUCCESS! Monarchs Crowned CIF Division 4 Champions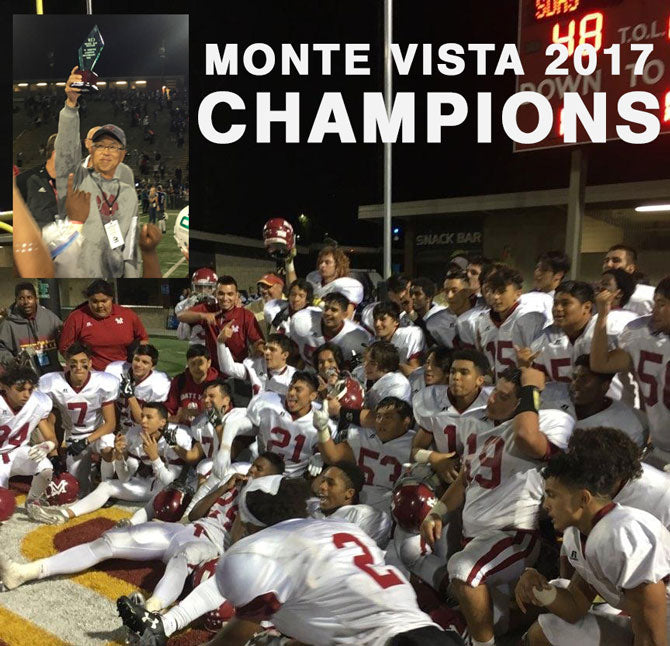 Congratulations to the Monte Vista Monarchs!
In a stunning 71 to 48 victory the Monte Vista Monarchs rode their strength and conditioning to a record 8 touchdowns. Coach Hamamoto said he did not expect a high scoring "track meet" but his guys were up to the challenge. Pulling away in the second half the Monarchs sealed the championship with junior Jahon McClendon rushing for 380 yards!
After the victory, Coach Hamamoto was quick to text BFS president, John Rowbotham, the news: "We won today. Another championship for BFS". BFS is honored and humbled to have a great coach like Ron Hamamoto in our corner.


The Monarchs lit up Twitter almost as much as they lit up the scoreboard!
---
 Are you ready for the program that has lead to hundreds of championships?
The BFS Total Program is just the tool busy coaches need to effectively structure strength, speed and agility training so they can spend time on sport specific coaching and the character building lessons sports and athletics provides. Combining the Total Program with a BFS Weight Room Strength and Safety Certification (WRSC) is the gold standard to help schools, coaches and athletes succeed! BFS can deliver a WRSC right to your school or we host select regional events for teachers and coaches. See the calendar below for a list of events and early bird registrations. Don't Forget to Download your FREE copy of the BFS Magazine now and learn more about Athens High as well as an in-depth look at the Leg Curl, a critical speed building auxiliary exercise! 2018 Regional Certifications! 30 Day Advance Registration Saves $100 - Use the Discount Code Below 
| | | | | |
| --- | --- | --- | --- | --- |
| Date | Early Reg. Promo | Location | City | ST |
| 2/12/18 | 0218RCMO | Montgomery City HS | Mont. City | MO |
| 4/21/18 | 0418RCMI | Manchester HS | Manchester | MI |
| 4/22/17 | 0418RCMD | Dulaney HS | Timonium | MD |
| 4/28/18 | 0418RCKY | Marion County HS | Lebanon | KY |
| 5/5/18 | 0518RCWI | Somerset HS | Somerset | WI |
| 5/12/18 | 0518RCWI2 | Oshkosh West HS | Oshkosh | WI |
| 5/19/18 | 0518RCIL | Knox College | Galesburg | IL |
| 6/7/18 | 0618RCTX | North Lamar HS | Paris | TX |