Technology in the Weight Room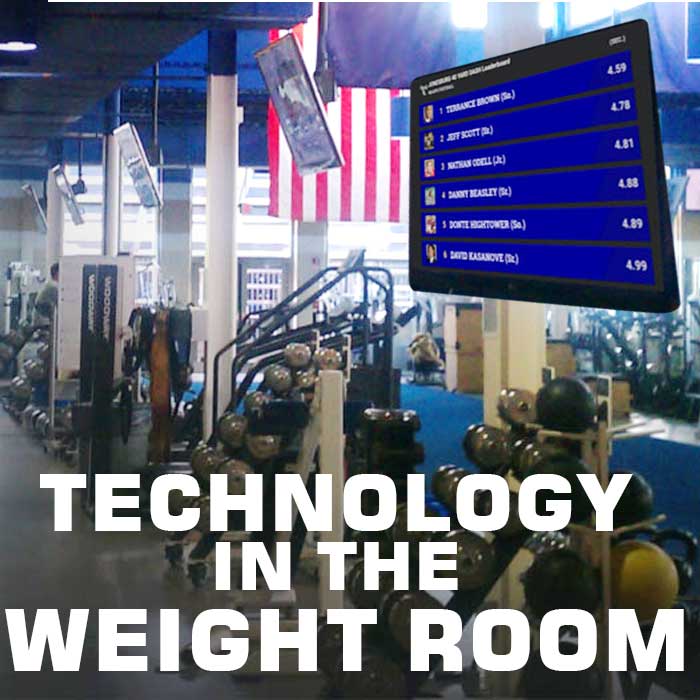 More and more often we are seeing new technology-driven changes in the weight room. Do you absolutely need these changes? Maybe not, the athlete must still pick up the weight and put it down to get benefits of strength training. However, these new workflows can make big difference in getting most out of your workout time.
In a class or team setting new strides in electronic record keeping can free up valuable amounts of time for the coach or teacher. With The BFS Set Rep Log App athletes and students can record lifts on a tablet, or even a phone, which provides the instructor with an overview of the entire team on a computer. This can save time and space as log books cannot get lost or need to be stored.
However, some programs choose not to allow phones and tablets in the weight room citing risk to the devices or the distraction that connected devices can have on students. Whichever recording method your program chooses BFS has the answer. Our Set Rep Log Books are time-tested are customizable for your men's, women's, or readiness classes. For electronic record keeping the BFS Set Rep Log App works on any internet connected device, Android, IOS, Mac or PC.
One area we feel can really save time, while inspiring athletes, is providing Leader Boards for the weight room. An electronic record board has many advantages over dry erase boards or velcro backed nameplates. Speed and ease of use in administering the updated records make the electronic version clearly superior. Max Leaderboards works everywhere there is internet access (and works with any internet device)
Can be projected to any T.V. Monitor.
Houses an unlimited number of Athletes.
An unlimited number of REAL TIME Leaderboards instantly update upon entering data.
Bringing technology into your weight room is an individual choice and whichever way you run your program, as long as your progress in measurable, your athletes will stay inspired.