Beginning a Dynasty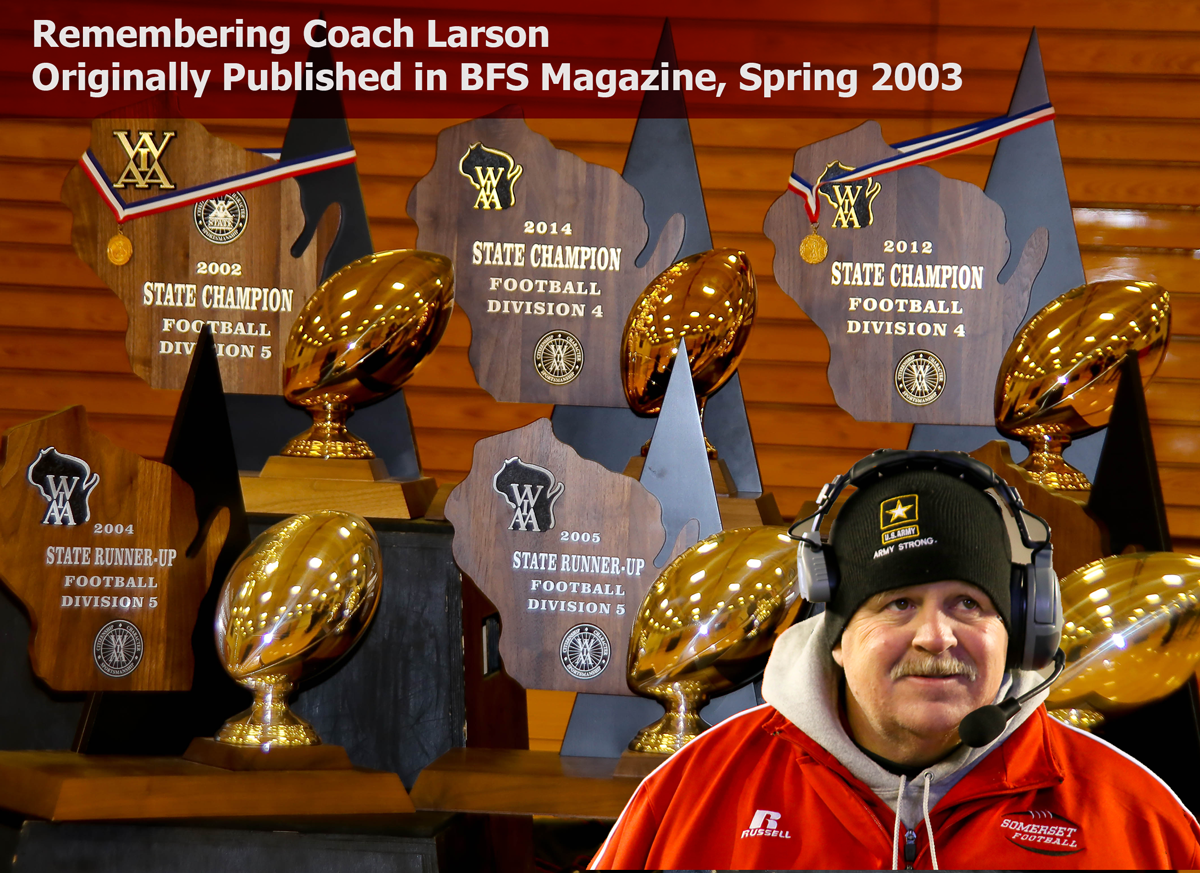 Somerset High School
Wisconsin Division 5 State Football Champions
By Dave Praschak
Originally Published: Spring 2003
---
Snow filled the air as freshman wide receiver John Anderson raced to the huddle to deliver the most important message of the afternoon. The team broke the huddle as senior quarterback Talyor Germain surveyed the defense, junior halfback Shawn Walczak settled into a three-point stance. Likewise, junior guard Dillon Dabrowski prepared for what was to be the biggest play of the season. Just moments earlier, the Spartans had been stopped 14 yards short of the end zone. Knowing the situation was fourth and goal, trailing 25-22 early in the fourth quarter, Germain began the call, "Pittsburg 78! Pittsburg 78! Set hut!" Backyard football? Hardly. It was Somerset vs. Auburndale. It was the Wisconsin Division 5 State Football Semi-final game. Auburndale had been ranked number one all season and was heavily favored to win. It was the moment Somerset had been dreaming about all their childhood. It was exactly what Head Coach Bruce Larson had told the boys a year ago would happen if they developed and followed a plan for success.
For a brief moment the crowd grew quiet as "Pittsburg 78" unfolded. Germain took the snap as Dabrowski pulled around end. The ball was pitched to Walczak as he headed toward the sideline. Meanwhile, Anderson ran a post route deep in the end zone. The pitch to Walczak with a lead blocker had been routine for the Spartans all season and Auburndale looked certain to stop the Spartans for a loss. However, Walczak pulled up and passed the ball into the end zone where Anderson carefully looked the ball into his hands. Touchdown! The Somerset defense held Auburndale scoreless in the fourth quarter and Walczak later added a 24-yard touchdown late in the game to clinch the victory 37-25. At game's end, hundreds of classmates, family, and friends swarmed the field for the newfound tradition of the players and fans singing the school song. For the first time in school history the Somerset Spartans and their fans would travel to Madison, Wisconsin to play for the State Division 5 Football Championship. What brought these ordinary boys to this date with destiny? A belief in the five Power Axioms:
Establish noble goals.
Establish a massive work ethic.
Keep your eye on the glory of attaining your goal.
We all have a "date with destiny."
We help each other in mind, body, and spirit.
Learn More About Power Axioms With a BFS Total Program Clinic

Power Axiom #1
Establish noble goals.

At the conclusion of the 2001 football season, the Spartans had a disappointing 3-6 record and were not eligible for the State playoffs. The year had been plagued with many disciplinary and academic challenges. In addition, Somerset was moving into a tougher conference in 2002 making it the smallest school in the Middle Border conference. Regarding the 2001 season, Coach Larson recalls, "I knew something had to change. Instead of making excuses for our challenges ahead we got to work as soon as our season ended." Instead of turning their equipment in and cleaning out their lockers at the conclusion of the 2001 season, Coach Larson asked his returning players to continue practicing throughout the first week of the playoffs. During this time the team established goals for next season and set into effect a plan to achieve them. "We really didn't have anything to lose," said senior defensive back Bruce Baillargeon. "Besides we didn't want to end our season like that. We wanted to change our direction as a team and as individuals."
Coach Larson challenged his players to change their lives. BFS Clinician Jeff Scurran came to Somerset in late March and talked about teamwork, leadership, and setting goals. Coach Larson used several books, including the Be An Eleven Guidebook (2002), to help motivate players to pursue excellence on and off the athletic field. The Spartans were expected to become better students, citizens, and athletes if they sought to be part of the 2002 football season. Bottom line: players were expected to Be An Eleven more of the time.

Power Axiom #2
Establish a massive work ethic.

Somerset had never won a State championship in football. Yet, that is what Coach Larson, his coaching staff and players set out to do. Somerset already believed it had a good training program by living the BFS's beat the computer motto. But Coach Larson wanted to take the football program to the next level. Jeff Scurran met with coaches before the clinic began. Jeff was convinced that the BFS program could be done better at Somerset and would produce the desired results. Throughout the two-day clinic, Jeff emphasized the importance all the 5 Power Axioms, but none had a greater impact on the audience as, "Establishing a massive work ethic." At the conclusion of the clinic, motivation was high among players and coaches. Over the next few days, adjustments were made in the existing BFS training program. Players were motivated to work harder and work together. "For the first time, I felt everyone was working together to accomplish a common goal," senior lineman Mike VanSomeran explained. "Everyone wanted BFS." Coach Larson challenged his athletes to participate in a spring sport (track or golf) and attend weight training three days a week starting at 6:30 A.M. each Monday, Wednesday, and Friday.
The 6:30 A.M. weight training continued throughout the summer and included a Tuesday and Thursday sprinting and plyometric boxes workout. The summer program was the complete training program from BFS. It required a massive work ethic and test the commitment of each player. Nearly 90 athletes (boys and girls) participated in the program throughout the summer. Never before in Somerset had so many athletes worked so hard during the summer. Coach Larson added, "There was just no reason we couldn't dominate in the fourth quarter when you have so many player getting up at 6:30 A.M. each day to work hard for an hour and a half in the weight room and on the track." A massive work ethic was definitely and firmly established. Anything less than this type of effort during the 2002 fall season would not be acceptable to players and coaches.

Power Axiom #3
Keep your eye on the glory of attaining your goals.

Witness any Tuesday/Thursday sprint workout on the Somerset track and anyone could easily understand the level of focus each player had throughout the summer. It was easy to see that each player believed in the vision and had their eyes on the glory. Faced with a workout of 8x200, 16x100, and 12x50 early in the morning before temperatures reached 90°+, none of the boys said a whole lot. Once into the workout there was not much time for talking. Learning to rest, however, became as important as learning to work hard. After all, completing a tough sprint workout was an everyday goal for each player and the team. "No one ever questioned why," senior linebacker Andrew Neuman remembers. "We just trusted it would pay off later." This was part of the massive work ethic they all agreed upon. Their ability to stay focused on the glory of attaining their goals would be tested daily throughout the summer and especially during the season. More often than not, it was their intense focus on attaining their goals that lead the Somerset players to victory over the course of the 2002 season.

Power Axiom #4
We have a date with destiny.

November 22, 2002. Camp Randall Stadium. Madison, Wisconsin. The Somerset Spartans had battled to the 2002 Division 5 State Football Championship game. Somerset had traveled 250 miles to Madison to play Marshall. More importantly, the Spartans had traveled one year for a date with destiny. It began with a group of ordinary boys working together to achieve the extraordinary. Before a crowd of more than 2,500 Somerset fans (community population: 1,556), the Spartans set out to fulfill what they believed could be done: win the championship. By games end, fans had been treate