BFS Impact! B.B. Hudspeth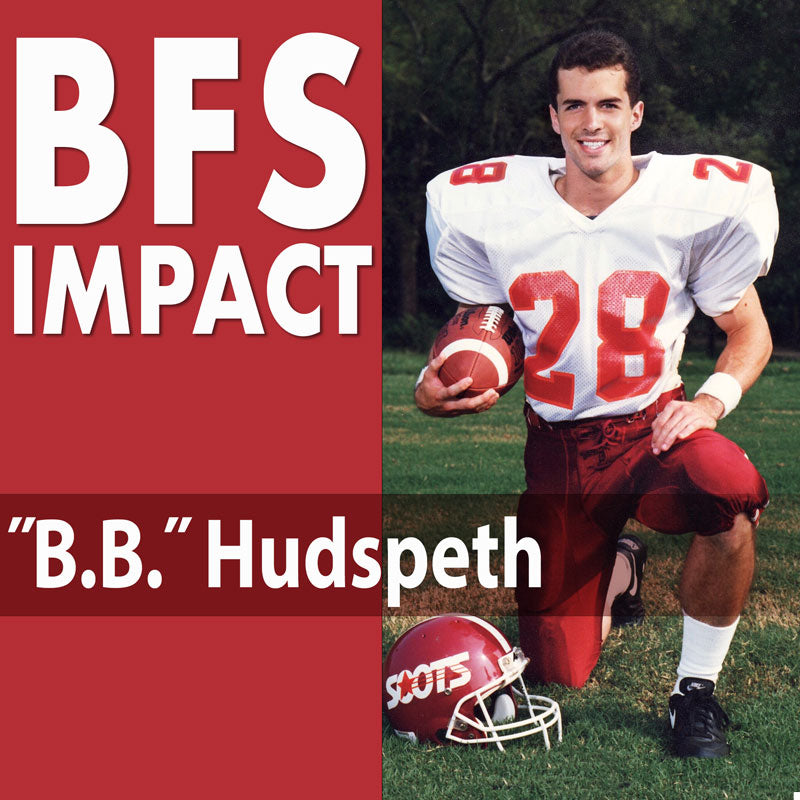 By Brien "B.B." Hudspeth
I can't say enough about the positive impact Bigger Faster Stronger had on my college athletic career and the respect I have for this company.  I first became familiar with BFS as a college sophomore.  Having just transferred to Maryville College in Tennessee as a member of the Fighting Scots football team, we were blessed to have a new head coach and coaching staff who understood and embraced the importance of a sound strength and conditioning program.  
Covering the walls of our weight room were BFS posters and articles featuring committed and dedicated competitors who, through hard work, sacrifice, and perseverance, became 'Upper Limit' athletes.  Featured athletes like OSU running back Barry Sanders inspired us all to set personal records and strive to be an "11."  I am proud to say that our football team's record improved all four years, resulting in a winning program.
President John Rowbotham and his staff continue the company's forty-four year legacy of encouraging and delivering positive changes in the lives of young people and educating coaches through the highest level of expertise, instruction, and resources.  The invaluable passionate service BFS provides and the respect they earn through their standard of excellence are equally as inspiring as the results they deliver on the field, court, and diamond for athletic programs across the country.  Thank you, Bigger Faster Stronger, for allowing me to be one of those young people who experienced positive changes that will always be a special part of my life, and I hope that my legacy shines as bright as yours. 
---
Brien "B.B." Hudspeth Stats and Awards

Height: 5'8"

Weight: 140 lbs

High School: Guntersville High School (Guntersville, Alabama) (Graduated 1987)

 

College: Maryville College (Maryville, Tennessee) (Graduated 1991)

Football / Defensive Back / 3-Year Letterman (Maryville College)

In only seven full games, led the team in passes broken up as a senior.  Finished tied for second on the Maryville College all-time list for passes broken up in a single season.

1990 Football Coaches Award (Maryville College)

1990 Strength and Conditioning Outstanding Performer Award (Maryville College)

1990 Powerlifting Champion (150 lbs class) (Maryville College)

Performed 100 consecutive dips on the parallel bars (Maryville College) (1991)

Crawford Hall of Fame (Maryville College) (1991) (Speed, strength, and conditioning)

College: Samford University (Birmingham, Alabama) Awarded Div. I Track Scholarship (Sprinter) (1987)

8 speed, strength, and conditioning records (Samford University & Maryville College)

Rated as an Elite Athlete by BFS (1993)

 
---
BFS WRSC Certification Online. Improve your coaching career and improve your team's prospects by becoming a BFS Certified coach and teacher this holiday weekend! Sign up for at home, online certification this week and SAVE $50.