Playing Up!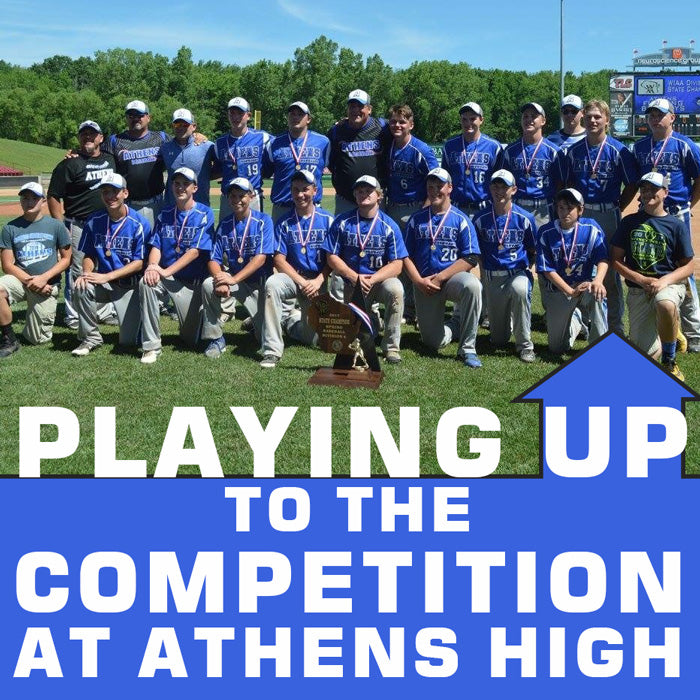 Originally Published October, 2017
Kim Goss
At smaller schools, coaches and other faculty members often need to wear a lot of hats to get done all the things that need doing. The result is a considerable amount of work and a tremendous amount of responsibility - just ask Athen's High Craig Diedrich. Diedrich has accepted the challenge of being a middle school science teacher, coaching football and softball, and head supervisor of the strength and conditioning program of this small school in the rural community of Athens, Wisconsin. Such dedication has rubbed off on the students.
A public school serving grades 9 through 12, Athens High School serves 182 students and has a 98 percent graduation rate; it is the only high school in the Athens School District. The fall sports are cross-country, football, and volleyball; the winter sports are basketball and wrestling; and the sprint sports are track and field, softball, and baseball.
---
"Our football players are our basketball players, who in turn are our baseball players, and so on."
Athen's High Craig Diedrich
---
Diedrich and the other members of the coaching staff at Athens encourage their students to participate in multiple sports. He says that not only does he want these young men and women to enjoy the high school experience, but joining outside sports programs hurt the entire athletic program. "Our football players are our basketball players, who in turn are our baseball players, and so on."
Although there are some parents who believe that having their sons and daughters focus on a single sport year-round may help their odds of earning a college scholarship, Diedrich says scholarships "are few and far between," and often these scholarships are for D3 and D3 schools. He says most parents would be better off putting the money they would have spent on outside sports teams and use it to pay college tuition!
---
We may not be able to pick the best athletes to come into our athletic program, but weight training is one of the things we have power over and we maximize that.
---
About 10 years ago Athens High School brought out out BFS clinician (and now president) John Rowbotham for a clinic. Diedrich says most of the coaches immediately bought into the idea of having a unified strength and conditioning program, and to help make it happen he opens the weight room at 6:15 am during school days for a one-hour session. For those who cannot make this Brawn at Dawn program, there are many other times available for them to lift under the supervision of a coach.
And to give his program a jump start, this spring Diedrich brought out BFS clinician Dennis Moon for a refresher clinic, which he says helped give the newer coaching staff a better understanding of the BFS program. Diedrich says that myths about strength training and softball have for the most part disappeared, but that "we still with an occasional parent saying if you lift heavy you're going to get slow," but this should not be a concern with BFS. "With BFS, the speed and agility training that is critical to an athlete are part of the program." He adds that initially there was some resistance to have athletes lift heavy close to a competition, but this issue is no longer a concern. "Our football team even lifts on the morning of game day – their bodies are conditioned and it only takes them a few hours to recover."
As for testing for sports, Diedrich believes that the best tests – and training exercises – for sports at the BFS core lifts. Squats, cleans, bench presses. With high schools, there are often talent fluctuations, and Athens is especially challenged as they are in the bottom third of their conference in terms of student enrollment. Nevertheless, since starting BFS a decade ago Athens has produced many good teams. Examples include a baseball team that won the state champion in 2017, a football team that won six conference championships and a softball team that has eight conference titles and 5 sectional appearances. Last year their volleyball team earned a spot in their first state tournament in 35 years, and six wrestlers made it to the state tournament.
"We may not be able to pick the best athletes to come into our athletic program, but weight training is one of the things we have power over and we maximize that. We also come for the perspective that if you work hard you're not only helping your team but helping your teammates. We want to give a positive experience and we want to produce quality members of society when they get out of Athens High School."
---