CJ Cummings: Making America Strong Again!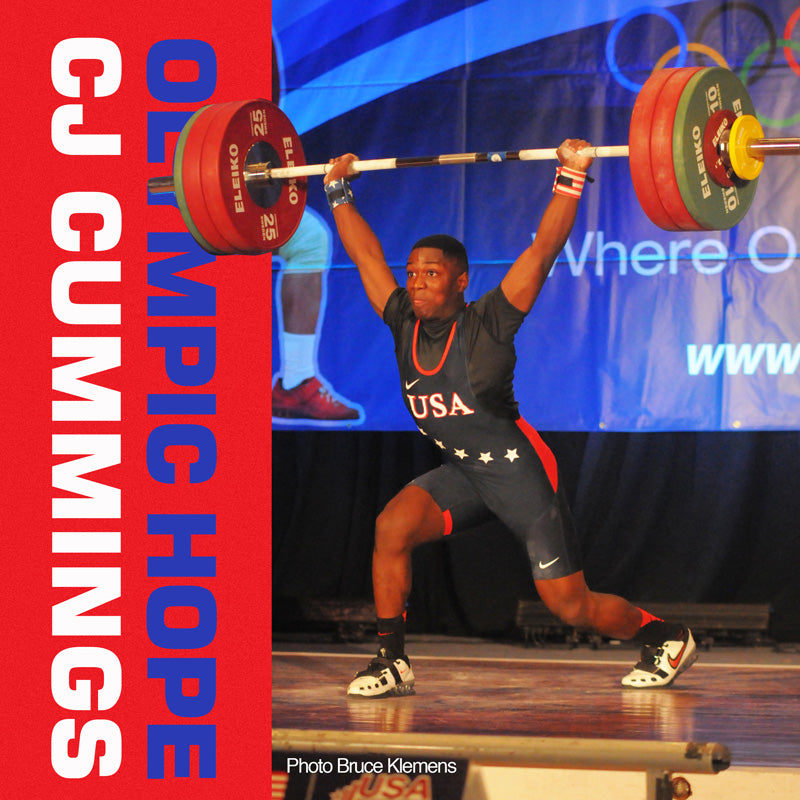 At the age of 14, CJ Cummings broke the senior American record in the clean and jerk with this lift of 337 pounds in the 136-pound bodyweight class. Photo by Bruce Klemens.
The United States has not had an Olympic champion in men's weightlifting since 1960, when Charles Vinci won gold in the 123-pound bodyweight class. In Toyoko, our medal drought may end when Clarence "CJ" Cummings steps on the platform.
CJ began lifting at the age of 10. At age 11, he clean and jerked double bodyweight. Impressive, but in 2014 he captured the attention of the Iron Game community at the Senior National Weightlifting Championships. Weighing just 136 pounds, CJ clean and jerked a senior American record of 337 pounds. What was especially shocking was not so much the massive amount of weight CJ lifted for his bodyweight, but that he was only 14 years old! Five years have passed -- how strong is CJ now?



At the age of 15, CJ moved up to the 152-pound bodyweight class and exceeded the youth world record with this success at 385 pounds. The following year he broke the junior world record in that class with 407 pounds. Photos by Bruce Klemens.
For starters, consider that last year CJ put on a record-breaking spree in winning the Senior Pan American championships, snatching 337 and clean and jerking 421 in the 160-pound class. He broke junior and senior American records, junior and senior Pan Am records, and junior world records – 15 records total! CJ followed that with a win as the Junior Pan American Championships, establishing junior world records with a 339 snatch and a 425 clean and jerk. Incidentally, the senior world record in the clean and jerk is 436 by Zhiyong Shi of China, so CJ is knocking on the door of that record.


Shown here competing in the 2019 Senior World Weightlifting Championships, CJ holds all the junior world records in the 160-pound bodyweight class and is in the hunt for gold at the 2020 Olympics. Photos by Tim Scott @ liftinglife.
Going into the Olympics, CJ Cummings is currently ranked fifth in the world, only 8 pounds off of the #2 ranking. On July 29th, CJ will be showing America's best at the Tokyo International Forum – be sure to tune in!
---
Improve athletic performance AND weight room safety.
---