Constant Improvemnt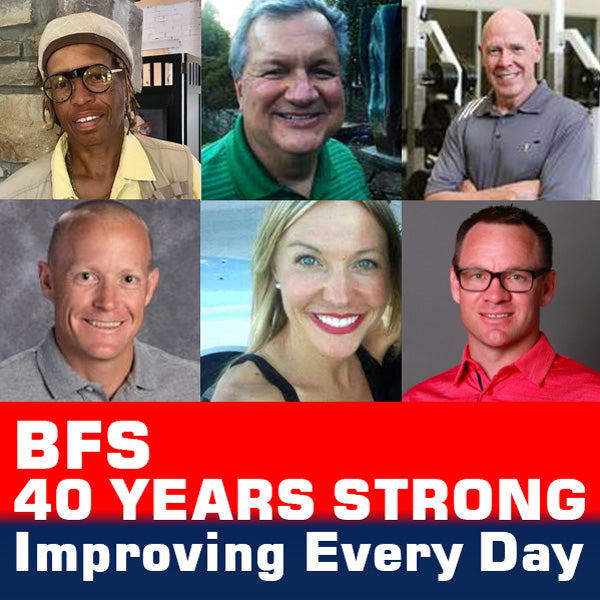 BFS has a decades-long history of working with schools, athletics, and PE departments. Our Total Program has successfully helped thousands of teams improve the physical development of athletes while building self-esteem and character. At BFS we could look back and point to our record of success but we choose to look out and forward and keep learning about new ideas and methods of improving students lives through strong bodies and minds. 
---
Get your Old School BFS shirt now. We have brought this design back just for our customers that are ready to break some records! Buy One - Get One Half Off - Use Code 1902OSTT at Checkout
---
Our advisory board is an exceptional group of teachers, professors, coaches, researchers and trainers that keep BFS on track to keep bringing the best to teachers and students. Three of these leaders are spotlighted below but our entire team can be found here: •Advisory Board 
Dr. Waters zeal for working with developing athletes has been evident throughout her career, working with USA Boxing in the eighties and Team Physician, Men's & Women's Gymnastics and USA Weightlifting Team in the 1984 Olympics. Dr waters currently Medical Liaison for Olympic Trials & Teams USA Basketball.
Dr. Waters is now bringing her impressive body of knowledge to the Central Consolidated School District of New Mexico.  •Read More
Mark McKown has over 25 years of experience working with NBA athletes, 21 of those as Director of Sports Science, Head Strength and Conditioning Coach and Player Development Coach for the Utah Jazz. McKown became the franchise's first full-time strength-and-conditioning coach on September 29, 1997.•Read More
Ernie Rimer is in the 17th year of his career working in collegiate, Olympic, and professional sport. He currently serves the University of Utah Athletics as Director of Sports Science. Over the course of his career, he has served athletes from nearly two-dozen different sports. Beyond his professional role at Utah Athletics, he is a Ph.D. student in Utah's Department of Exercise & Sports Science.•Read More
Learn more about how BFS can bring a culture of success to your program or school by calling one of our coaches 800-628-9737. 
BFS Weight Room Benches on sale through May 2019 - Save 15% with Discount Code 
---
SAVE ON BENCHES IN MAY!
These weight room staples are on sale at
15% off
in a wide variety of designs and special uses.  That is on top of Free Shipping for orders over $20! Use Discount Code 1905BNCH through May  
SHOP BEFORE THIS DEAL PASSES BY
---