Family Man, Teacher, Coach, Friend: Remembering Rick Bojak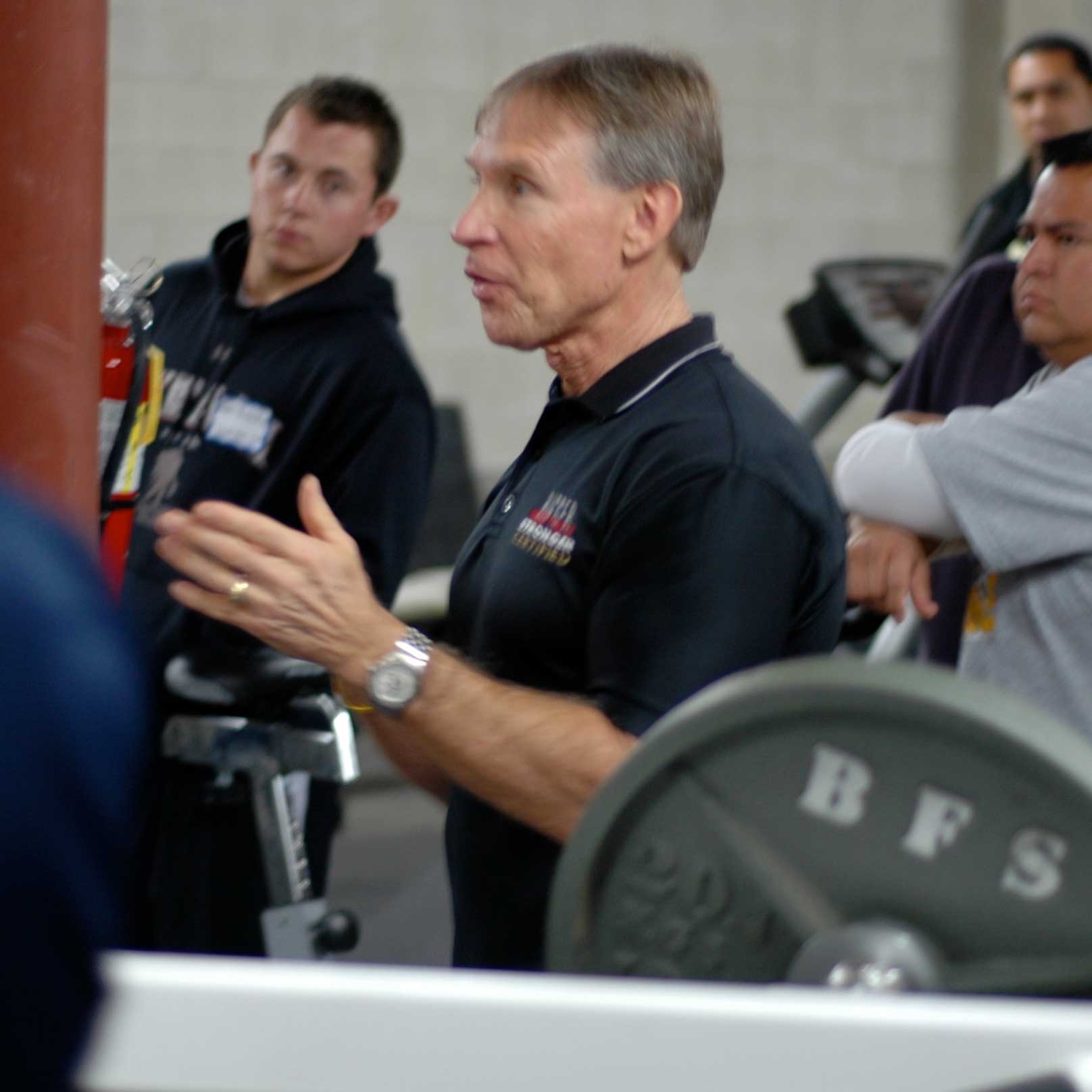 Since our early years, BFS magazine has featured many articles sharing the wisdom and accomplishments of BFS Clinician Rick Bojak. Bojak was a class act who inspired countless young men and women to succeed in not just sports, but academics. This article needs to go a step further and celebrate not just Coach Bojak's accomplishments, but also his life.
Rick passed away on Friday, May 12, 2017. To get an idea of the lives this amazing man has touched and changed for the better, consider these tributes:
"Coach Bojak will be missed! I will always remember watching in awe, as he bench pressed over 400 lbs., as a freshman at old Jordan High in the pit, in 1981. His work ethic, on multiple levels, serves as a great example for all those he came in contact with over his very short 66 years. I guess Billy Joel was right when he sang, "Only the good die young."
-- Pete Katsan, North Salt Lake, Utah
"There are people who touch so many people's lives but are unaware of how many people they have touched. I am sure that Rick was one of those people. I was a high school classmate of Rick's...I remember his humble and kind nature. He was a wonderful example of how to live a life."
-- Bruce Stone, Tempe, Arizona
"During my tenure as Director of Athletics I have heard a multitude of great stories about Coach Bojak; a testament to the significant impact he had on many members of the SUU Family, an impact that continues to live on through the many great men he coached."
-- Jason Butikofer, Southern Utah University, Director of Athletics, Cedar City, Utah
"There are few days that I do not reflect on the positive impact Coach has had on my life. I will always remember his positive attitude and his devotion to his players and students."
-- Darrell van Amen, Bellevue, Washington
"We are sad to see the passing of a great man. We will always cherish the times we had together on the school board. His concern for the students, patrons and employees was legendary. In the spirit of his perfect optimism, we will not say good-bye. We know we will see you again, dear friend."
-- Randy & Gayla Brinkerhoff, Riverton, Utah
"Rick was far more than a great coach. I did my student teaching with him at West Jordan and coached against him for several years. I learned so much from him. His teams were so hard to beat. Thank you Rick for everything you did for me. You will be greatly missed. There's no doubt in my mind, the world is a better place because of you.
-- Wes Wilcken, Riverton, Utah
"I was a student of Coach Bojak in a sports psychology class at West Jordan High School in 1994. At the beginning of every class we would stand and read an inspirational quote written on the board. Each day Coach would erase a word and eventually an entire phrase from the board. By the end of the semester, the entire class was reciting this inspirational quote by heart. I have never forgotten it: "Today is the beginning of a new day. I have been given this day to use as I will. When tomorrow comes this day will be gone forever leaving in its place something I have traded for it. I want it to be a gain, not a loss. Good, not evil. Success, not failure. In order that I shall never regret the price that I paid for it. Because my future is just a whole string of NOWS!
"I am now an elementary school principal and actually repeat this quote to myself each morning on my 35-minute drive into work each day. I have repeated it before faculty meetings as well. It grounds me and reminds me of the important work educators do every day...thank you Coach, your legacy lives on!"
-- Corrie Moore-Barrett, Lehi, Utah
"Rick was an outstanding high school football coach and even a better teacher and family man. His influence on the young people of this state is immeasurable. I had the opportunity to compete against Coach Bojack when he was the Head Football Coach at Jordan High and West Jordan High and I was coaching at Granger High and Hunter High. We had some great battles. His teams were always very well prepared. He was a man of great courage. I feel blessed to have known him."
-- Coach Mike Fraser, Taylorsville, Utah
"Rick was a good friend of mine at Mather High School in Chicago. We would lift weights at my parents house...I was in awe of his strength...he had fantastic natural strength in conjunction with lightening speed and coordination...a gifted athlete...in fact as a freshman in high school he was the best athlete on the entire north side of Chicago. At a time when most kids are trying to fit in.he was his own man. He was confident, had a great attitude and had the ability to make others feel good...you wanted to be around him. If one was to measure success by the positive effect a person had on others...hands down...Rick Bojak is the most successful man I have ever known. I will miss him."
-- Marc J Ostrof 
"Thank you coach for all you did for me and other students at Riverton High School. You were truly one of a kind and I'm honored that I had you as a psychology teacher and a weights coach. You inspired so many people to achieve goals that they themselves would've deemed impossible to accomplish, but you always saw the potential in others. Thank you again, and I'm still taking care of mind, body and soul, just like you taught. You will be missed but never forgotten."
-- Isaac Hiatt
"I'd known Rick for over 35 years as a coach and his BFS program. When he was at Jordan High, we butted heads many times on the football field but once the game was over, we had nothing but kind words for each other. He brought the Jordan program back to prominence and helped West Jordan and Riverton through their formative years. I will miss his smile and firm hand shake."
-- Coach Stanley Finn Judge Memorial Catholic High, Salt Lake City, Utah
Coach Bojak was more than just my football coach. He was a friend and mentor. He taught me and our entire team not just about football, but about life, how to overcome adversity, and how to become good men. I will be forever grateful to this man for the life lessons he taught and lived by and example. You will be missed Coach Bojak."
-- Duaine Scadlock 
"RIP Coach! You will be missed by the so many lives you touched along the way. What will today bring? Just as you told use 20+ years ago, something we will never forget and I currently have not. The lord brought a good one one, someone that was as good as it gets!"
-- Clarence Baker
"Rick & I were good friends when we attended Mather High School in Chicago. He had incredible natural strength, lightening speed, a positive attitude and self-confidence...a powerful athlete. Anyone who was around him felt good. In my book success is measured by the positive effects one has on others...under that metric...Rick was the most successful man I have ever known." 
-- Marc Ostrof, Chicago, Illinois
"If asked to name 10 people who changed their lives for the better, Coach would make it on those lists for thousands of people who knew him. He handled everything God threw at him with the courage of the warrior he is."
-- Jeff Birch, Draper, Utah
Richard Keith Bojak was born on February 16, 1951 to Joseph and Virginia Rogers Bojak and spent his childhood in Chicago, graduating from Mather High School in 1969. He placed running back and middle linebacker in college and his skills on the gridiron resulted in him being inducted into the Northwest Athletic Association Hall of Fame. Academically, he graduated from Weber State with a bachelor's degree in physical education and then earned a masters degree in psychology from the University of Utah. 
His career goal was to wear two hats, one as a coach and the other as a teacher. Bojak has been an educator and a coach at Weber State University, the University of Utah, and Southern Utah University. He has coached and taught at the high school level at three schools in Utah; in just one year he took one school from a 22-game losing streak to playing for the state title the following year. His accomplishments as an educator are equally impressive, and in 1995 he was named the Utah Teacher of the Year.
In the Spring 1995 issue of BFS magazine, BFS Founder Dr. Greg Shepard introduced Rick to our readers. Her is what he said, "I have known Coach Bojak for nearly 20 years, and he is the most positive person I have ever been around. He is always smiling and looking at the bright side of life and people. We are excited to have a man of Coach Bojak's stature on our clinic staff." Since then, Coach Bojak is one of the few BFS clinicians to give over 100 BFS clinics.
Rick died at the young age of 66 after a long battle with ALS. Rick is survived by Janet Clontz Bojak, his wife of 42 years; his daughter, Jennifer (Matt) Briggs; and his brothers Bill (Karen) Bojak and James Bojak. 
Rick touched thousands of student/athletes lives during his long and successful career with BFS. He was a dedicated friend and mentor, who taught all of us to "enjoy the journey of life" to the fullest! When Rick led a BFS Clinic, everyone listened, and their response was, "We want him back at our school." He had the gift to motivate in such a dynamic manner. 
Rick will always be remembered for his leadership and long-lasting influence through his ability to "Practice What He Preached." We will be forever grateful for the relationship he had with each and every one of us at BFS & for all of the lives he has positively impacted over so many years. We love you Rick!