Jumping into Plyometrics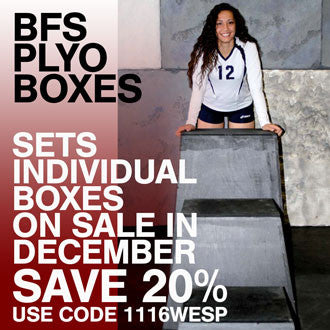 NO Fad or quick fix Plyometrics have been an essential part of the BFS Total Program since it's inception. Plyometrics have proved to be vital to championship programs across the country for 40 years!
Plyometrics is a powerful tool for athletic training, in the middle school and high school environment, the most practical and effective form of plyometric training is box jumps.
Box jumping bridges the gap between strength and power. Being able to squat 400 pounds (181 kilograms) is great, but that alone does not ensure explosive power. Box jumping can help the muscular system contract more quickly and with greater force.
To properly run a plyometric box jumping program, coaches should have access to boxes of various heights. Whereas the standard plyometric box for high school athletes is 20 inches, for middle school athletes, heavier athletes and athletes at a lower skill level it's best to start them on 10- inch Readiness boxes.
Coaches looking to improve the speed, power and jumping ability of their athletes should consider investing in some plyometric boxes and performing a progressive program of box jumping. When plyometrics is used correctly and consistently, it is an extremely effective training method that only takes a few minutes week. It's a win-win workout!
LEARN TO IMPLEMENT PLYOS IN 10 - 15 MINUTES! TRUST IN BFS EXPERIENCE. READ THE FULL STORY HERE