How NFL High School Coach-of-the-Year Bruce Larson developed a winning tradition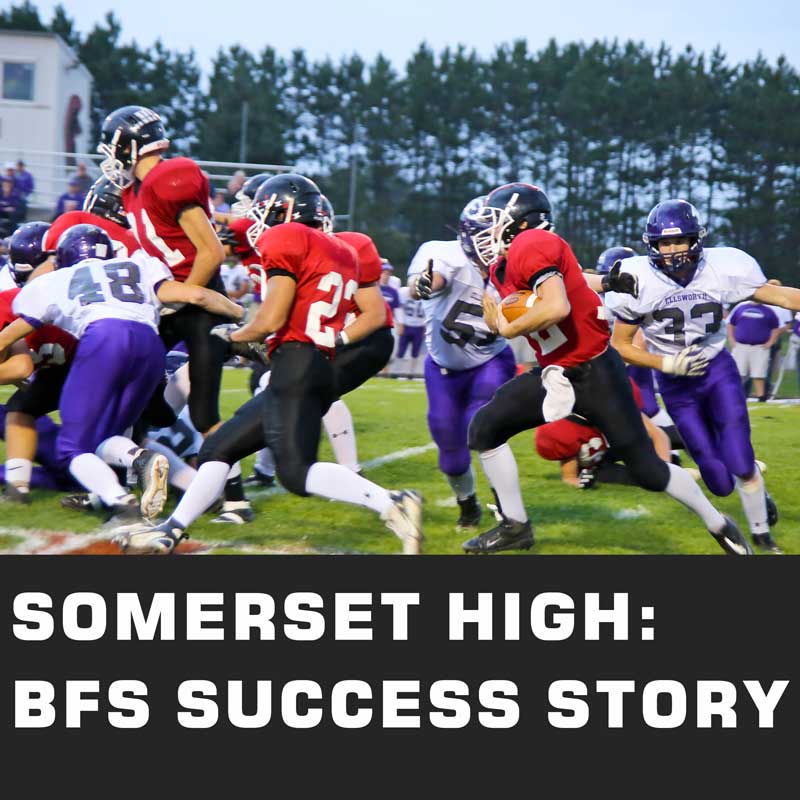 by Jeff Scurran, BFS Clinician
Originally published March 2015. BFS Clinician Jeff Scurran recounts working with NFL High School Coach of the Year, Bruce Larson. Coach Scurran is now spreading his love of the game by working with American Football teams in Kempten Germany!
I don't believe that I'll ever forget my first conversation with Somerset High School's Head Football Coach Bruce Larson back in 2002. First, I could barely understand a word that man said among the din of noise typical of the well-attended Wisconsin Coaches Association Clinic; the volume of his voice for an experienced football coach was so untypically low. I remember asking him to repeat almost every sentence he uttered. But Coach Larson's message to me was clear and precise; Somerset High School in Somerset, Wisconsin, was mired in mediocrity. 
Despite his efforts to change things, the community was OK with the status quo and the school wasn't willing to make a large investment in a radical change. 
Even though my schedule was completely full with clinics, Larson convinced me that the plan I laid out for his school would be followed and he was willing to put himself on the line to get it done. His sincerity and willingness to learn the BFS System, and how it could be specifically implemented in his school, convinced me to move a few things around and work out a spring clinic. 
The next few years were almost a blur of success and resulted in Somerset's first state football title. In itself, this would be a wonderful story. But this was just the start of a journey that has helped turn Somerset into a true football powerhouse…and Coach Bruce Larson as the 2014 Don Shula NFL High School Coach-of-the-Year. 
Unlike most coaches, Larson saw BFS as a true, long-term resource. After two additional clinics helped his program win a state title and a final four finish, some of his athletes convinced him they didn't need another clinic. Larson demurred, and Somerset fell out of the playoffs. This would be their last failed season.
Literally, only one day after losing his last game of the season, Larson called me and asked for my help again. This time, we set up a plan to take weight off of the bar and focus totally on technique and body position. Then, as technique was perfected, weight was judiciously added to the lifts…and the "miracle of Somerset," as some area coaches called it, began in earnest. 
Somerset's success was not a miracle; it was the result of a well-designed plan and a highly committed coach who wasn't concerned about how he would look if he asked an expert for help. 
Quickly, Somerset became the place where perfect technique in the weight room was transferred to perfect technique on the field. If a weight training or athletic development problem came up, Coach Larson called me or another coach at the BFS home office that same day. If we decided it was necessary to fly me up to the wintery north from the comfort of my Tucson home, we did it. If he needed a piece of equipment to help solve a problem, he found a way to fund it. If the athletes needed a "gentle reminder" of how success was achieved in their hometown, I was there to help the coach who was now a good friend.  
Coach Larson encouraged his athletes to train year-round and also to become well-rounded athletes. Coach Larson found a way to buy the equipment I recommended. He bought our specifically designed weight room plan for his modest space. He worked with his school and community to build a compact, but totally functional championship weight room that suited the specific needs of the problems we discovered on our mutual planning. 
The wins and state titles followed. Success over a long period of time is never an accident. It is always the result of a sound plan through hard work by dedicated people. 
Somerset had become a place where the BFS Absolutes of Body Position were taught in Physical Education and youth sports. The BFS Readiness Program was an expected component of Middle School PE and sports. And the BFS Set-Rep System was the Holy Grail of the high school's football program. 
Coach Larson attempted to get other schools in his area to buy into the BFS concept to raise the level of competition, thereby challenging his team to raise their own level. A few tried this but the attempts were half-hearted and none followed through like Somerset. The bar had been set too high for most; there is no other way to put it. 
When I travelled back to Somerset in December to help celebrate the team's success, the school held a pep rally in my honor, they took pictures of me with the championship trophy, and community members, many who originally doubted the money spent helping to change the culture of work-to-win, came to thank me for my effort. 
They told me that the football players now set the tone of "work ethic" for the community that the people of Somerset so highly valued. They bragged that things would never go back to the era of mediocrity that had plagued their athletics for so many years. They explained that the town was "forever changed" and spoke of the future success they now "expected."
They didn't need to do any of that. Celebrating with the students who I'd been working with since they were in elementary school and seeing the smiles on the faces of the community and school leaders was more than enough. 
---
Improve athletic performance AND weight room safety.
---
Coach Larson and I hugged after the crowd had cleared and winked a knowing smile in each other's direction. We both understood the happiness that winning had brought to his long-suffering community. But we also knew of the work from his coaching staff, the fund-raising efforts of his boosters to fund his efforts, the students who didn't make it because they simply wouldn't buy into the demanded work, and the time away from family that any highly successful endeavor costs. 
At that point, Bruce Larson took out his calendar and asked me when I could come back and begin a new plan because he feared that too many just "expected to win." He worried that some of the younger coaches didn't get the attention to detail it took to produce an athlete that could win with technique and functional strength. He fretted that some of the new administrators, who hadn't witnessed the struggles and tribulations it took to get the program to its now lofty status wouldn't understand their role.
Like all great coaches, Bruce Larson wants to win his next game -- it's all about rebuilding and reloading. There is nothing else on his plate except keeping his weight room up to modern standards of safety and functionality, his superior classroom teaching up to expected levels, his involvement with Somerset Youth Football, his student driving school, his church activities, and his family.
Now that he's the Don Shula NFL Coach-of-the-Year Award winner, everyone just assumes they'll continue his winning ways. 
Not Bruce Larson. He understands that BFS is all about helping him win. And he'll call me more than any other coach.